The magnetic encoder consists of a magnetic sensor and a magnetic disc. The magnetic grid (sleeve) is fixed on the shaft, the
shaft magnetic disc rotates synchronously, and the sensor detects the output signal.
The 42MM series DC motor magnetic encoder is produced according to the diameter of the motor and the size of the main shaft. The PCB board with the sensor and the terminal at the end of the motor are welded and fixed, and the magnetic grid (sleeve) is fixed on the tail shaft.
Professionally provide DC motors, steel tube motors, and magnetic grid holes corresponding to all series sizes (shafts); diameter 1mm. 1.5mm. 2mm. 2.3mm. 2.5mm. 3mm. 3.175mm. 4mm. 5mm. 8mm.
42MM series magnetic encoders are high-performance, low-cost, single-channel and two-channel incremental magnetic encoders, suitable for any harsh environment, each magnetic encoder contains a magnetic fence and a magnetic sensitive detection circuit, output two square wave with 90° quadrature phase
42mm all-metal gear, Hall A, B dual-phase, output 12 PPR optional, PH2.0-6P terminal line socket, permanent magnet DC Hall encoder gear motor
Small size, large torque, low noise, adjustable speed, forward and reverse
Stable and reliable performance
Bi-phase Hall signal feedback, 6V, 9V, 12V, 24V optional.
Motor type: 42mm 755/775 DC geared motor
Hall output signal: square wave A, B phase
Encoder voltage: 3.3V-24V
Operating temperature range: -40°C-120°C
The encoder board is designed to be soldered directly to the back of the 755/775 motor, with the back shaft of the motor protruding through the hole in the middle of the circuit board. One way to achieve good alignment between the board and the motor is to tack down the board to one motor pin and to solder the other pin only when the board is flat and well aligned. Be careful to avoid prolonged heating of the motor pins, which could deform the plastic end cap of the motor or the motor brushes. Once the board is soldered down to the two terminals, the motor leads are connected to the M+ and M- pads along the edge of the board; the remaining four pads are used to power the sensors and access the two quadrature outputs:
42mm magnetic encoder,It is a double-pass single-incremental magnetic encoder.
The magnetic encoder includes a magnetic ring and a Hall detection circuit. The dual-channel Hall
encoder adopts the Hall principle and uses the magnetic detection method to convert the
displacement data into electrical pulse signals. . This encoder is suitable for all kinds of harsh
environments!
12 PPR MAGNETIC ENCODER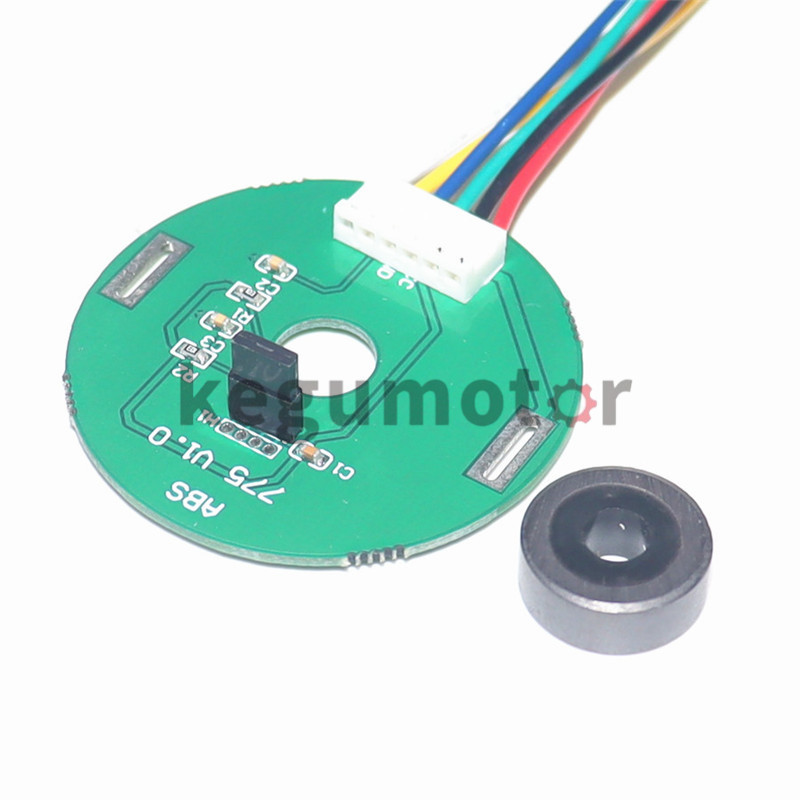 * The above specifications are subject to change without prior notice.